FDNY 343 Ride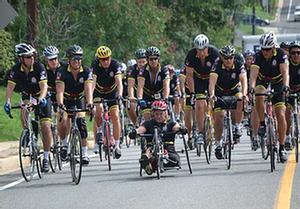 Pindar Vineyards will once again be the finish line for the FDNY343Ride, an annual bicycle trip to honor and remember the 343 members of the FDNY who perished in the World Trade Center on Sept 11, 2001. We will never forget.
Members of the FDNY will participate in the annual FDNY343Ride memorial bicycle ride and pedal from The Freedom Tower in Lower Manhattan to Peconic, NY. Donated proceeds from the ride go directly to help support severely injured veterans who have served in the Armed Forces. Their lives have been permanently altered protecting our great nation and the freedom we so enjoy. We are committed to help and support these brave men and women in their time of need as they return home. The money raised is used to pay for all terrain wheel chairs (Track Chairs), service dogs, medical bills, housing, and numerous other expenses that surface. These brave men and women have made great sacrifices and it is an honor to be able to help out any way we can.
We encourage our customers to make donations on their website or the day of at Pindar Vineyards. On Sunday, 9/15/19, riders will start to arrive at Pindar around 4:00 p.m. There will be food and commemorative apparel available for purchase, and other festivities to help raise funds for Wounded Warriors. Please join us.